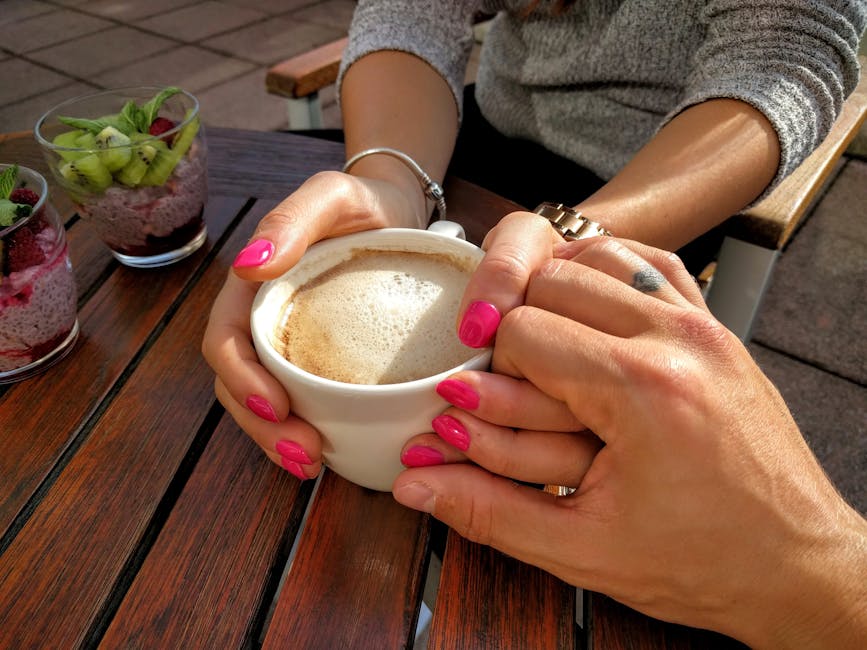 When I was a little girl, I dreamt of falling in love.  The fairytale kind filled with romance and butterflies.  At the age of 21, I was married to a nice man, but not the right man.  After the marriage ended, I had a string of terrible relationships that left me hurt and guarded.  My last relationship ended almost five years ago, and I've kept my heart under lock and key ever since.  That is until now.
A little over three weeks ago, I had what I thought would be another insignificant Tinder coffee date.  My hope for meeting "the one" has slowly dwindled these past five years, so I wasn't expecting much from this meet up.  We met on a Sunday morning at my regular cafe.  He was sitting on the patio when I arrived, but I wasn't sure he recognized me.  Just when I was going to walk by and go in, he stood up and said "hello".  That voice!  Being as discreet as I could, I eyed him up as we walked to the counter to order our coffee.  Attractive, good shape, tattoo on one arm, dressed well, tall, dark, and handsome.  OH and great smile.
That morning we had coffee for two hours.  I didn't want to leave him, but I was starving. When I told him I had to leave because I needed to eat lunch, he asked if I was going out somewhere for lunch.  I said I was, and I asked him if he wanted to join me.  "Yes"  He did.  I enjoyed spending time with him, but It was to early to determine what I thought of him as a potential partner.  He is a truck driver and out of town Monday to Friday, but he asked me if I'd be interested in having dinner with him next Saturday.  Plans were made, and we parted ways.
The following weekend, we had our dinner together.  We had some drink and laughs; he was easy to be with.  We made plans to go for a hike the following day.  He was a complete gentleman.  He had made no attempts to kiss me the first two weekends we spent together.  Our next weeked together involved dinner again on Saturday, and he came back to my place to play guitar and have drinks.  I let him sleep on the couch because he had been drinking… still he did not try to kiss me.  That Sunday we took a drive to a neighbouring town (2 hours away) to go shopping.   When he opened to door to the mall for me, he put his other hand on the small of my back to guide me in.  MY HEART FLUTTERED.  As we wandered from store to store, he would touch my low back, or hip just enough to show his interest.  When we returned to town, I invited him for dinner….
While I was preparing the meal, my anxiety decided to act up.  The music was too loud, he was talking, food was cooking — I could feel the panic rise in my chest.  When I asked him to lower the volume, he did right away, and I had to tell him about my anxiety.  He was caring and understanding.  When dinner was ready, we ate and then he stood up and walked over to my chair.  He leaned over me, and then….. he kissed me.  I have never in my life been kissed like that.  Firm but gentle, slow but eager… it still sends shivers down my spine when I think of it.
He left the next day for another week on the road, which then brings us to this past weekend.  There was no denying the physical attraction we had for each other.  We had so much fun together this weekend, and yes — we took it to the next level.  It was more than amazing.  He left on Monday, and since he left, I've been super anxious about my growing feelings for him.  If he didn't text or call, I was worried he wasn't feeling the same as I was… yesterday was bad, but I worked my way through my anxiety.  Then, at 8:35pm, he called.  He had been out of cell service all day, but he said he had been thinking of me non-stop.  He told me he really liked me, and it made him happy how much he liked me.  I admitted my fears, and he told me I had no reason to fear this — I believe him.  I feel so connected to him even though it's only been a few weeks.   Time will tell if this is the one I've been waiting for.  For reasons I can't explain, however, I believe he is.
I'm happy, and for the first time in a very long time, I'm excited about the future.  I'm not niave; I know love takes time.  I'm falling, however.  Falling for the most honest, beautiful man I've ever met.  This is the beginning of a new story — a love story.